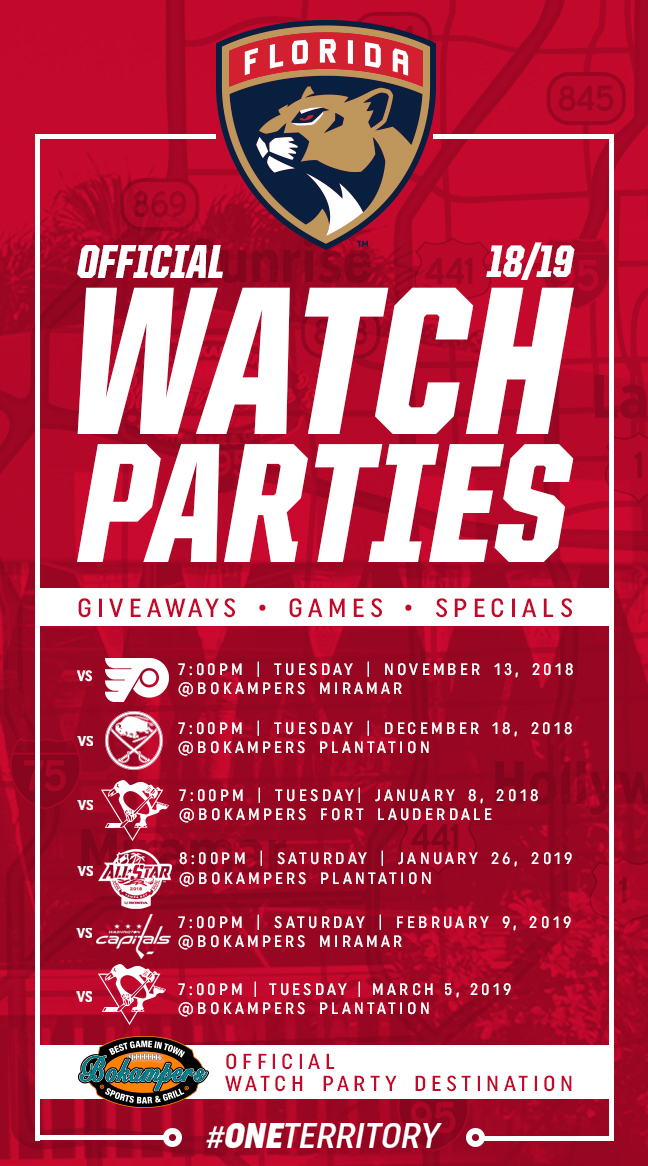 FLORIDA PANTHERS
WATCH PARTIES
OFFICIAL WATCH PARTY DESTINATION OF
THE FLORIDA PANTHERS
FACEBOOK | TWITTER | INSTAGRAM
Tell us it's not a hockey town. Tell us there isn't even ice here. Tell us all the reasons why we're different. We'll tell you it's not a town at all. It's a territory. THIS IS PANTHERS TERRITORY.
You won't want to miss a second of the action this season as the Florida Panthers take to the ice for their 25thAnniversary. Catch ALL of the games this season at any Bokamper's Sports Bar & Grill locations. Be sure to visit us during the Official Florida Panther Watch Parties to experience the excitement of Stanley C. Panther, the Roar Corps, Giveaways and much more!
From slapshots to fist fights, this team brings it all. Enjoy some of our daily food and drink specials while cheering on your local Florida Panthers. This is One Territory and we are here to keep it that way. Be sure to follow us on Facebook, Twitter and Instagram for updates and upcoming events. See below for a list of currently planned Watch Party Dates.
WATCH PARTY SPECIALS
THE FLORIDA PANTHER BURGER
spicy buffalo seasoning
guacamole
cool ranch
pepper jack cheese
sliced jalapeños
lettuce
tomato
onion
served with american fries
only $9.99
during Official Watch Parties
COORS LIGHT BUCKETS only $15
10% OFF WHEN YOU WEAR YOUR PANTHERS GEAR