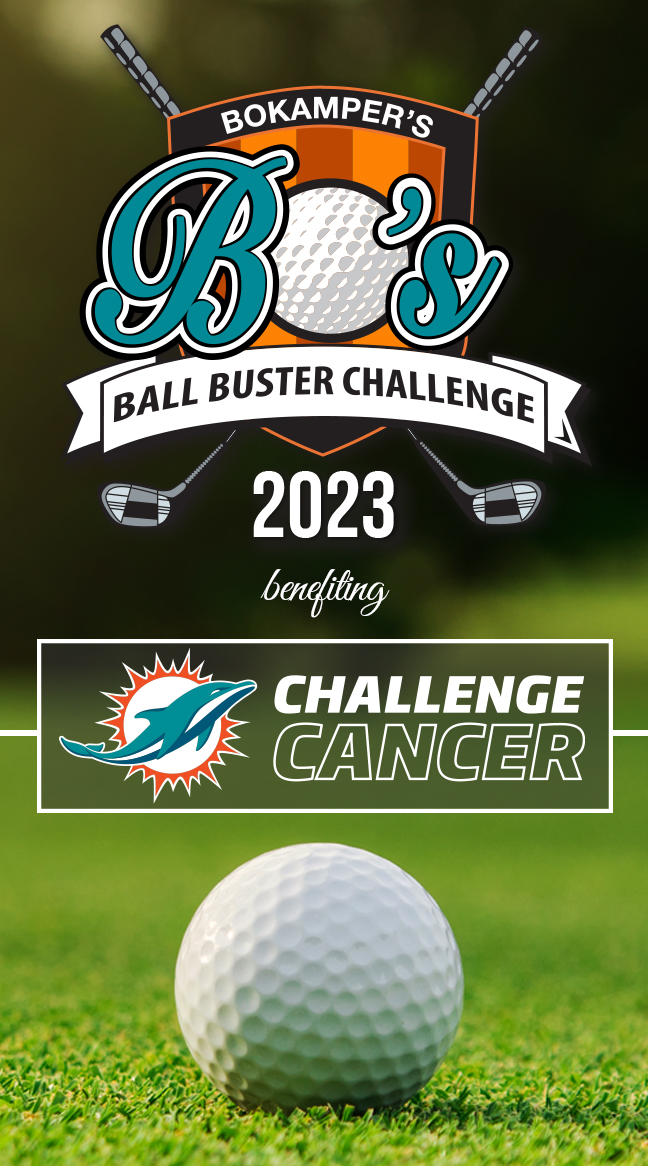 BO'S 10TH ANNUAL BALL BUSTER CHALLENGE
Benefiting:
THURSDAY,OCTOBER 5
@ JACARANDA GOLF CLUB
We're gearing up for our favorite event of the year! Bokamper's Sports Bar & Grill's 'Bo's Ball Buster Challenge' is back in 2023 for our 10th annual Tournament! On Thursday, October 5th, we will be continuing our ever popular 18-hole golf challenge at Jacaranda Golf Club in Plantation.
Through our annual golf tournament, we strive to support our local community, and this year, we'll join hands with Dolphins Challenge Cancer (DCC). Dolphins Challenge Cancer (DCC) is a signature initiative of the Miami Dolphins organization to fight cancer. The DCC's 365 mission to Challenge Cancer empowers organizations and individuals with a trusted path towards improving lives impacted by cancer in South Florida. 100% of every dollar raised funds the advancement of cancer care through breakthrough science, leading edge technology, and personalized patient care. Sylvester's bold discoveries are changing the future of cancer treatment and the care for generations to come. Last year the DCC raised over $10 million making their total gift over $64 million since 2010.
With our event growing every year, we have cultivated a great crowd of golfers, businesses, and vendors. For this reason, we are seeking sponsorships from your business. Support from our sponsors in the past has been crucial to our cause, and we are again reaching out to businesses asking them to help us make a difference. Your contribution to this event is a remarkable way to network and meet other people, all while contributing to a great cause.
The event is far more than a day of golf. There will be several additional activities for guests to enjoy. A cocktail hour and an awards dinner will be followed by a prize raffle and silent auction. This is truly a remarkable philanthropic opportunity for Bokamper's Sports Bar & Grill and its patrons and partners. Any sponsorship donations that you can offer will go a long way towards making this day of charity a memorable and beneficial day for all those involved. Please consider sponsoring our 'Bo's Ball Buster Challenge'.
Thank you so much for all of your support, and we can't wait to see you on October 5th.
For questions or more information, please contact:
Emily Dall
golf@pdknrestaurantgroup.com
(847) 644-0922
EVENT INFORMATION
Registration starts at 11:00AM
Complimentary Range Balls from 11:00AM to 12:45PM
Lunch at 12:00PM
1:00PM Shotgun Start
Hole in one & other contests
4 Person Team Scramble
Food & Beverages on Course
Cocktail Hour, Dinner & Awards Ceremony at Bokampers Plantation
Raffle Prizes & Silent Auction
WANT TO PLAY IN OUR 10TH ANNUAL BALL BUSTER CHALLENGE?
• One (1) Foursome Entry
• Four (4) Bo's 'MVP' Tour Golf Shirts plus four (4) Premium Player Gift Packages
• Complimentary range balls, green fees, lunch prior to shotgun start, and beverages provided throughout the day. Plus, a sponsored Cocktail Hour, Dinner & Awards Ceremony at Bokamper's Sports Bar & Grill Plantation
• One (1) Single Entry
• One (1) Bo's 'MVP' Tour Golf Shirts plus one (1) Premium Player Gift Packages
• Complimentary range balls, green fees, lunch prior to shotgun start, and beverages provided throughout the day. Plus, a sponsored Cocktail Hour, Dinner & Awards Ceremony at Bokamper's Sports Bar & Grill Plantation

SPONSORSHIP OPPORTUNITIES
BO'S "WALK OF FAME" PRESENTING SPONSOR $10000
"MVP" TOURNAMENT GOLF SHIRT SPONSOR $6000